Kurhan (2010)
"We should make context choices first to stimulate learning motivation and second to assist learners in transferring their newly learned knowledge and skills to real-world tasks" (Allen, 2003, p. 198).
I had the pleasure to tour the simulation lab at USciences in Philadelphia during a recent PADLA meeting (padla.org). These labs are used to train and assess physicians during the course of their training. If you are expecting a traditional classroom, think again! The designers of this space probably don't know Michael Allen but they definitely took his advice!
Below are pictures of simulated patients that are available for treatment: one in an ER setting, one delivering a baby and another that simulates lung and heart sounds. Click here to see even more photos of these labs in action. All of these patients help learners properly diagnose and treat patients in an environment were the only potential adverse outcome is grade related.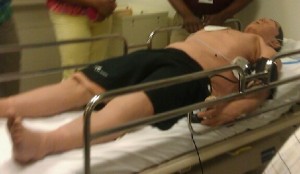 I felt like I was at my doctor's office during the tour which, of course, is the entire point! The pictures really could not capture:
The spaciousness and high quality lighting of the learning spaces
The command center that controls the simulated patients well-being (or lack thereof!)
The video and audio pick-ups that allow instructors to assess their learner's performance without being in the same room with them
The planners at USciences did an amazing job ensuring that the context provided to future physicians will properly prepare them for a smoother transition to the realities of their future workplace. Context is crucial to learning! What do you think?
REFERENCES
Allen, M. W. (2003). Michael Allen's guide to e-learning. Hoboken, New Jersey: John Wiley & Sons, Inc.
Kurhan. (2010). Stock photo: Medical Doctor. Retrieved from http://www.freeimages.com/browse.phtml?f=view&id=1314903