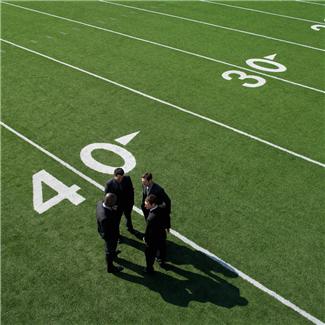 (Microsoft, 2014)
Too many times in my experience working as part of a Learning and Development organization, we tend to focus on being order takers.  The business wants something and we don't necessarily agree.  Do we push back?  Do we say "You know what? This isn't really training, this is a culture adjustment that can't be solved through a single training initiative."
Generally, I didn't push back and you know why?  Because when you are in Learning and Development, you want to be accommodating, it's in our nature.  You are there to support the business and that is an understood part of the paradigm.  They are paying your paycheck because you are supporting their initiatives.
But did that make me a true business partner?
So I started with Merriam-Webster's (2014) online dictionary and my eye was drawn to one particular part of the definition "one associated with another especially in an action" (para. 5).
I have taken a lot of action in my time but was it the right action?  Wick, Pollock, and Jefferson (2010) write that "Business leaders want learning professionals…who understand their specific business, who can clearly and succinctly explain the business model of their company or division and its more important business drivers and challenges" (p. 31).
This is a challenge for me (and, I hope, for the reader) to open our horizons further than the next learning project to a wider world where we understand the challenges the business faces and work to "discover the highest value needs or opportunities that training and development could help fulfill" (Wick et al., p. 35).  This first step helps us to turn partnership from an item in question by the business towards making partnership a statement of fact.
REFERENCES
Merriam-Webster, Incorporated. (2104). Partner [Web Page] Retrieved from http://www.merriam-webster.com/dictionary/partner
Microsoft. (2014). Group of businessmen huddled on a football field [Digital Image]. Used with permission from Microsoft. Retrieved from http://office.microsoft.com/en-us/images/results.aspx?qu=strategy&ex=1#ai:MP900422756|
Wick, C., Pollock, R., Jefferson, A. (2010). The six disciplines of breakthrough learning. San Francisco, CA: Pfeiffer